Dumiss Trade Ltd
Consolidated Physical Commodities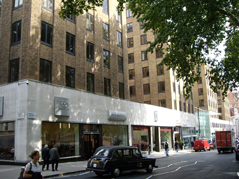 Berkeley Square House

Dumiss Trade Ltd was established in 1993 as a London based grain-trading company. Dumiss Trade Ltd is part of a group of affiliate companies under the same management with offices based in London (UK), Warsaw (Poland), Kiev (Ukraine) and Belgrade (Serbia) - all of them established and designed to support the Company's global market activities.
The principal activity of Dumiss Trade Ltd is trading - primarily in grain, feed ingredients, soft commodities, chemicals and fertilisers - while associated companies are dealing in metals, ferrous and non-ferrous metallurgy commodities and mining by-products. Our activities include the origination of these products for export from regional production centres and their shipment, import and sometimes domestic distribution at local consumption markets.
The synergy of the Company's management experience, long lasting relationships with local operators and comprehensive understanding of their principal markets, positioned Dumiss Trade Ltd amongst the most respected grain companies operating in Central and South-East Europe.
Dumiss Trade Ltd
2nd Floor
Berkeley Square House
Berkeley Square
London, W1J 6BD
Tel. 0207 396 55 74
Tel. 0870 803 29 52 (Direct)
Fax. 0207 887 60 01
Fax. 0871 242 89 74 (Direct)
E-m:
mail@dumiss.co.uk